Reasons Why India Is So Poor
India has 363 million (or 29.5 percent) people under the poverty line based on a survey of 2011-12, as against 407 million (37 percent) in 2004-05. This is latest claim that comes from the Rangarajan Committee in June 2014, until then it was pegged at 269 million (22 percent) using another formula. That's enough for the comedy of poverty line in India! The more comprehensive Multidimensional Poverty Index 2013 report of UK based Oxford Poverty and Human Development Initiative (OPHI) and the United Nations Development Program (UNDP) says that 53.7 percent (or 650 million) people are poor. While there can never be agreement on poverty numbers, compare these numbers with the European Union and US populations of 500 million and 320 million, respectively.
India holds the distinction of having the most number of poor of the world – a super poor nation! Consequently, South Asia has become the world's biggest center of extreme poverty. On the World Bank's extreme poverty line of 1.25 dollars a day, there are roughly 500 million extreme poor in South Asia, followed by 400 million in sub Saharan Africa. The chart below clearly shows the global poverty trends since 1981.
Given the multitude of languages, customs, cultures and "castes" in India, the reasons for poverty are also numerous and intertwined. Here an attempt is made to highlight 8 important reasons for high poverty in India. However, one message is very clear: One has to look at poverty, beyond income.
Global Poverty Trend since 1981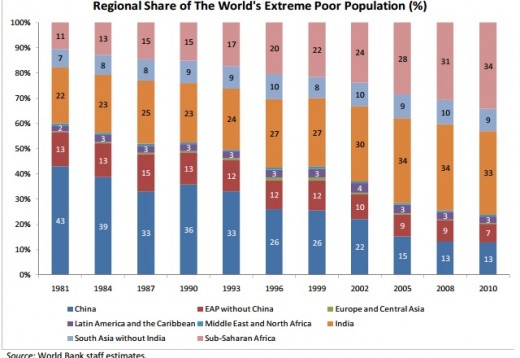 1. Social Inequality Leading to Exclusion and Marginalization
Societies cannot progress if certain sections of people are left-out simply because they happen to be from the "wrong" class, caste, ethnic group, race or sex. If the virus of color and race based discrimination has damaged the social set up of many countries in the West, the bacteria of "caste" division has undermined the cohesive social fabric of India. Lower caste people have traditionally been excluded from the mainstream society governed by the so-called upper caste communities. They have historically lived isolated in the periphery of the villages and townships and subsisted doing only those tasks considered "unfit" for the other castes. Their un-touchability can be considered the worst form of rejection by the mainstream society.
While considerable change has taken place in people's attitude since 1947, but the "lower caste" communities are still not satisfactorily absorbed in the mainstream society. Rural India (where 70% of the population lives) is still quite "caste conscious" compared with the urban society where education and financial well-being has largely erased the caste divisions. Mahatma Gandhi tried to remove the social stigma of un-touchability by coining the label "Harijan" (god's people) for them but with only partial success. The official label for about 170 million unfortunate lower caste people is Scheduled Caste (SC).
Another segment of society that is still very much detached from the mainstream is the tribal community forming 8% of the population. These tribal people (called Scheduled Tribe (ST)) have historically lived in secluded areas such as forests. The Colonial British designated their habitations as "excluded areas" not as any special privilege but for convenience of the colonial policies. Unfortunately, the "free" governments after 1947 never bothered to assimilate them into rest of the mainstream society and the tribal communities continued to remain isolated and "barely governed." As a result, besides the poverty of the tribal communities, their backward due to lack of governance of their areas also gave rise to armed Maoist movement. It, ideologically, wants to establish communist state based on Mao's principles through gun battle. Popularly called Naxals, these Maoists now pose the biggest internal security threat for the country.
Beside the SCs and STs, there are several other communities designated "Other Backward Classes" or simply OBC – they may or may not be Hindus. Their socioeconomic plight is also similar to SCs and STs. The list of OBCs is dynamic and every now and then the government edits it (mostly for political reasons); there is significant confusion about their exact proportion. However, most experts agree OBCs to be in the range 25 – 35% of the population.
Why this issue of marginalization is important can be guessed from the statistics: Indian population consists of roughly 16% SC, 8% ST, and 35% OBC. Hence, combined together they form 60 – 65 percent India's population! So, the population of the so-called forward or upper class is less than one-third, but who by and large control everything.
The policy of reservation in government jobs for the backward communities has certainly helped them to rise up to some extent. But it is limited to the small fraction of the backward communities that somehow managed to do well and gain education.
2. Illiteracy
High level of illiteracy, particularly in the rural areas and among women, has been a crucial factor not only in perpetuating economic backwardness but also for high population growth. The persistence of high illiteracy has created a situation where poverty and population are feeding each other. It is well established that female literacy plays an important role in the well-being of the family in many ways. When women are educated, they not only contribute economically but also raise healthier kids and keep the family size small. Early marriage of girls and early child bearing is closely related with their low literacy; it feeds poverty.
In 2010 only 26.6% women above 25 years found to have received secondary education, as opposed to 50.4% men. In comparison, in China 54.8% women and 70.4% men had secondary education; in the US, this figure was 94.7% for women and 94.3% for men.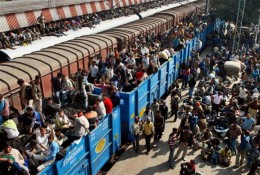 3. Population
While the growth rate of population has decreased significantly over the decades and the rate fertility decline has accelerated since 2011, India's population is currently growing annually at the rate of about 1.4 percent. The total fertility rate has sharply fallen to 2.3 and should approach the replacement rate of 2.1 by 2020 and country's population should stabilize by 2050 at around 1.5 billion and then fall. The current population increase is largely driven by population momentum (large base of people in the fertile age); not because people want large families. Around 18 million people are added to population each year. However, not that many people are lifted out of poverty every year.
Early marriage of girls and lack of awareness about reproductive healthcare, particularly in the rural areas, are major factors behind current population growth. Population is clearly a factor contributing to, and sustaining, high levels of poverty. But the Chinese population control through one-child model would be a bad example to follow for the democratic India. ()
4. Gender Inequality
Gender equality is both a core concern and an essential part of human development. Indian social fabric is highly patriarchal which has left women significantly exploited and discriminated. If caste based biases work only outside home in the open society, the discrimination against women operates both in and out of homes. Not only men always get preference in every walk of life, their attitude towards women is largely patronizing and imposing.
Their weak status, particularly in the rural areas, is at the root of most chronic problems. It is their lack of awareness or access to family planning tools and early marriage of girls and their early child bearing, which ultimately have led to high population; lack of awareness of health issues related to pregnancy and child upbringing has resulted in high mortality rate, under-nutrition and malnutrition among children; lower education and lack of freedom has resulted in low participation in societal processes. All these factors are enough to feed and sustain poverty.
On the World Economic Forum's 2014 gender gap index (GGI) India ranked 114 out of 142 nations. India scored below average on parameters like economic participation, educational attainment and health and survival. It slipped 13 spots from its last year's ranking of 101. It is part of the 20 worst-performing countries on the labour force participation, estimated earned income, literacy rate and sex ratio at birth indicators. The index benchmarks national gender gaps on economic, political, education and health criteria.
Indian Muslim community is perhaps most backward in terms of gender inequality. Its clergy habitually wants to live like the Arab tribes of the 7th century uncivilized Middle East, in the name of Sharia'h Law – confining women inside the veils and oppressed by polygamy and 'triple' Talaq.. But for their resistance, India would have by now a Uniform Civil Code for all Indians. Rise of radical Wahhabi Islam across the world in the past 2 decades will make the task of providing equal treatment to Muslim women much harder.
5. Unequal Distribution of Wealth
India happens to be a rich country inhabited by very poor people. – Dr Manmohan Singh
Unfortunately, since departure of the colonial British in 1947 all economic development has taken place in the cities, while the majority of the population lives in the countryside. Thus, the rural India has always remained neglected. Another peculiarity is the land holding pattern in India: most land has traditionally been under the control of a few landlords, leaving the vast majority landless. The "Zamindari system" of lopsided land ownership has ancient origin but given a boost during the British rule. Handful zamindars became legal owners of vast tracts of land and all others had to work for them to survive. This rent seeking exploitative system has since kept a vast majority of people in the rural India poor. Land reforms were debated noisily after independence but implementation lacked honest political will, despite the famous "Bhoodan Andolan" of Vinoba Bhave. Unfortunately, land reforms are no more an issue of public debates at present. All talks of poverty removal appear to center only around economic reforms, imitating the unsuitable Western capitalism.